Pajarito Riding Club is a non-profit community equestrian organization in White Rock, New Mexico. Members enjoy social events, access to the Club Horse Arena and facilities, a forum for discussion on topics from trails to local help and laws.
We are a fun group of people and we are always open for new members. Read More.
Due to insurance requirements, only paid members of PRC may use the arena, so please be sure your membership is up to date. We keep our rates very reasonable ($25yr, $45 family) so please do join, the instruction are at this link.
If you are a member of the club, you can post to the website discussion forum, events and even post items you have for sale or want on the buy/sell page yourself.  All you need to do this is your member login.  If you have not yet received your login, please email info@pajaritoridingclub.com and we will send it to you.
Announcements:
Coming soon. Date TBD
PRC member general meeting.
April 8th, 2023
PRC's Horsey Bomb-Proofing Day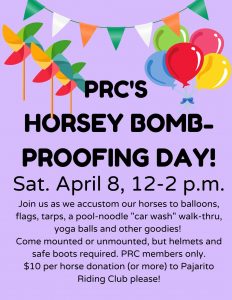 See more pictures from the event in our blog post
October 25th, 2021
Please join us for our next club meeting tomorrow, Monday, 10/25, 7 p.m.-7:40 p.m. It will be virtual (via Zoom).  If you are a current member who have not received zoom-in information, please, contact us at pajaritoridingclub@gmail.com
October 23th, 2021
Work party to clear the weeds that are working their way into the arena. If you have a truck that can take a load to the dump, please bring that, too! If we get a lot of help, it should only take an hour or two.
February 19th, 2021

Arena usage:
The snow has been dragged off the arena, but there is still a lot of draining to be done, slowed down by the large ice patches out there. When it's like this, you run the risk of your horse slipping or falling on the ice, so please don't turn them loose or move above a walk or trot for now, OK? You don't need a broken hip or pulled tendon on your horse!
The second issue, which applies whether it's summer or winter, is that if the arena is really wet, our horses' hooves dig deep, down below the top 4 inches of sand, and they dig into the rocky base. That makes nasty wet potholes and low spots that don't drain well, AND it brings up rocks from beneath the top layer. All bad things.
Help us keep our arena in good shape, and take care!